Contact
Katerina Pankova
Petrovice nad Orlici 60
517 21 Tyniste nad Orlici
Czech Republic


cell:
+420 602 301 211
ICQ:
291-741-122
e-mail:


[email protected]

WE ARE MEMBERS OF
Puppies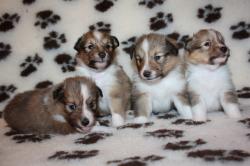 Our goal is to combine excellent temperament and health condition with the classic physical outlook of a good sheepdog that has always been a great companion. Our puppies are always carefully planned in advance so that the function of the whole family adjusts to the puppy schedule. Our shelties live in a house with the yard freely available and our puppies are raised in the same conditions.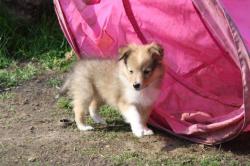 The first 8 weeks are very busy in our lives. We go to the veterinary clinic, the puppies have their eyes clinically examined, DNA CEA tests are done but mainly we welcome many visitors from our friends, breeders and people interested in getting a puppy from us. All our puppies of course leave our home properly vaccinated and wormed. We will of provide new owners with a special pack that contains the puppy's pedigree, pet pasport, purchase contract, puppy food, favourite toy and advices on how to go about your first days with your new family member.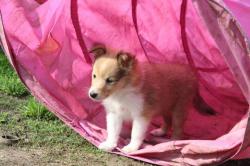 We like to get to know the future owners of our puppies as soon as possible and therefore early visitors are preferred. Nevertheless a first time owners are also welcome and we will gladly advise and help them with anything they might need. A non-binding visits are of course possible. We do not send our puppies alone on a plane as we believe that if you really want one of our puppies, you will make time to come and meet us and see the puppies parents. We always encourage buyers to keep in touch as we love to hear news and successes of our litters. We also encourage going to dog shows - although going or not going in no way affects our decision who to sell our puppies to. We can also sometimes offer a puppy ideal only as a pet for a loving family - after all, nobody is perfect and sometimes a puppy just isn't fit for shows or breeding.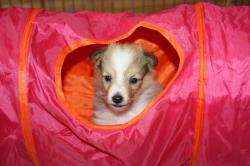 hips table BVA vs. FCI scoring
---
---
Info about litter "D" (?)
Info about litter "C" (2014)
Info about litter "B" (born 8. 3. 2013)
Info about litter "A" (born 21.05.2011)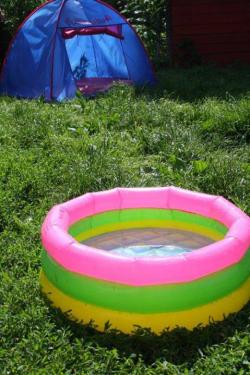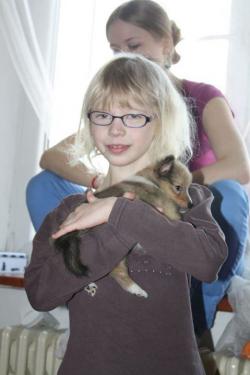 ---
Our Cheyla Gold has puppies in "Mandlok" kennel.
Father:
Magic Black Fatranský sen
37,5 cm, CEA/PRA/KAT neg.(20. 8. 2000)
Champion ČR + SK, 2x BOB, 2x CACIB, 3x r.CACIB, CWC, 9x CAC, 3x r.CAC, best dog 1997 and 1998
Born:
9. 9. 2006
Falko Mandlok (6605/06)
Felko Mandlok (6606/06)
Filip Mandlok (6607/06) - owner. J. Vyoral - HD-A, CEA/PRA/KAT neg.(19. 2. 2008), 38cm,
www page
Fantazie Mandlok (6608/06)