Contact
Katerina Pankova
Petrovice nad Orlici 60
517 21 Tyniste nad Orlici
Czech Republic


cell:
+420 602 301 211
ICQ:
291-741-122
e-mail:


[email protected]

WE ARE MEMBERS OF
Litter A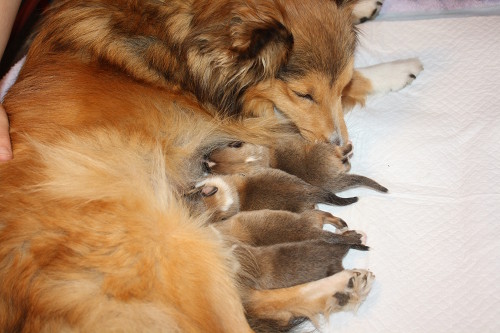 On Saturday 21st May 2011, between 4:45 and 7pm, our Patty Gabriela gave us 4 beautiful puppies. She gave birth in a natural way and without any complications. The puppies are very lively and are gaining weight as they should.
Dogs
ARAMIS Shetlandska hvezda
APPARITION Shetlandska hvezda
AYDINDRIL Shetlandska hvezda
Bitches
ALTAMIRA Shetlandska hvezda
All litters have full dental!

Altamira, Aramis a Apparition - 2 years 5 months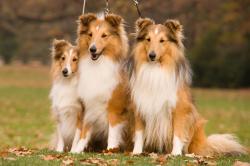 Day 1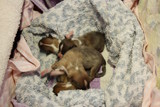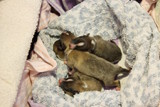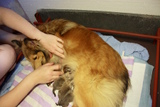 Day 2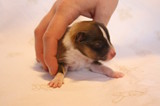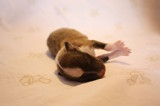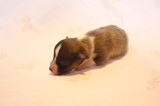 Day 3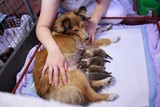 Day 4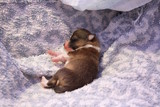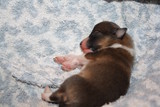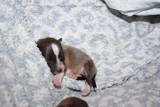 Day 5
photos at individual puppy profiles and in the NEWS section
---
---
other info
---
---
Our Patty Gabriela Smaal Kim will be mated to a sable dog at the beginning of 2011. The prospective father is a very nice UK dog. He has a great movement and a very nice expression. He is very friendly and has a successful show career behind him. His eyes tested clear and he had a hips scored. The ear is bent in a natural way. The puppies' pedigree will be based mainly in BB line and focuses on UK origins. Beautiful champion Ch. Lythwood Sky Master can be found in the expected pedigree.
Health pedigree of puppies
Mother's side
The grandmother of the puppies Ch. Belle Brigitte Smaal Kim (HD-A, CEA-DNA normal, MDR1 +/+) is a Czech and Slovak champion. Also rewarded with CACs in Hungary and Ausria. Further awarded "Best Bitch 2005" with unfortunately unfinished interchampionship (3x CACIB, 5x res CACIB). Her offspring are successful at shows as well as at agility courses! Bella's father is swedish Handsome Quartermaster(CEA/PRA/Kat neg, HD-A), the son of the world winner Ich. Moorwood Handsome Destiny. The grandfather of the puppies is Ch. White Coastal Little Ricky (CEA-DNA normal, MDR1 +/+), an estonian import, whose father is the well-known Ch. Estdale Classic Farmer ((HD-A, CEA-DNA normal, MDR1 +/-) - the descendant from the UK's Ch. Lythwood Sky Master or Ch. Rannerdale Bertie Wooster.
Father's side
In the grandfather's pedigree, the Ch Lythwood Sky Master is present (who is also the father of Ch. Marklin Espree and the grandfather of Ch Shelridge Summerspell - a beautiful sable dog). His mother's lineage goes back to the Shelridge lines such as Ch. Marksman of Ellendale and Ch. Shelridge Haywire. The grandmother of the puppies is Ch. Blenmerrow Melveen Mona Lisa (4x CC, 3x r. CC) whose father is a tricolour dog with beautiful expression Blenmerrow Barnaby who critically influenced certain parts of sheltie breeding. His roots also go to the beforementioned Ch Lythwood Sky Master or Ch. Marklin Espree. Another important name in the pedigree is Ch Scylla Apollonia. From the grandmother's side, we can find Ch. Blenmerrow Melveen Making Waves JW (a CC and BOB dog from Crufts 2003, also 7x CC and 2x res CC at various Crufts). There is also Ch Tegwel Wild Ways of Sandwick (the son of Ch. Lythwood Sky Master). We are again getting to the Shelridge lines (Ch. Shelridge Haywire) and to the Ch. Marklin Espree.
Estimated availibility time is summer 2011. Sable and tricolour puppies expected. As you can see, great ancestry - will produce quality show dogs. We will give advice to newb breeders, non-binding visits possible. Puppies available internationally!